VVT-I
VVT-i, or Variable Valve Timing with intelligence, is an automobile variable valve timing technology developed by Toyota, similar to the i-VTEC technology by Honda. The Toyota VVT-i system replaces the Toyota VVT offered starting in 1991 on the 4A-GE 20 Valve engine. The VVT system is a 2-stage hydraulically controlled cam phasing system.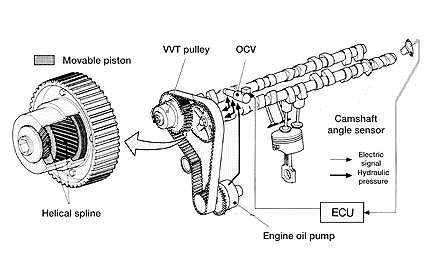 VVT-i, introduced in 1996, varies the timing of the intake valves by adjusting the relationship between the camshaft drive (belt, scissor-gear or chain) and intake camshaft. Engine oil pressure is applied to an actuator to adjust the camshaft position. In 1998, "Dual" VVT-i (adjusts both intake and exhaust camshafts) was first introduced in the RS200 Altezza's 3S-GE engine. Dual VVT-i is also found in Toyota's new generation V6 engine, the 3.5l 2GR-FE V6. This engine can be found in the Avalon, RAV4, and Camry in the US, the Aurion in Australia, and various models in Japan, including the Estima. Dual VVT-i is also used in the Toyota Corolla (1,6 dual VVT-i 124bhp). Other Dual VVT-i engines include the 1.8 2ZR-FE V6, used in Toyota's next generation of compact vehicles such as the Scion XD. By adjusting the valve timing engine start and stop occurs virtually unnoticeably at minimum compression. In addition fast heating of the catalytic converter to its light-off temperature is possible thereby reducing hydrocarbon emissions considerably.
Click here for a Video Animation of VVT-I
Click here for a Video Animation of Dual VVT-I
Information courtesy of Wikipedia
Bill Sherwood wrote a great article on the difference between VVT and the VTec's system. If you have more interest in the VVT and VTec cam systems, click this link below.
A Comparison of the Toyota VVT system Vs the Honda V-TEC
Bill also wrote an article on the later generation VVT-I used on the Beams engines which is another great read. Click below to see the article.
Toyota VVTL-i Variable Valve Timing & Lift - Intelligent
Information above has been provided with permission by Bill Sherwood (www.billzilla.org) Thank you Bill!